MHA Administrative Grand Rounds: Meet the Panelists
Virtual panel discussion, April 14 | 12-1 p.m. ET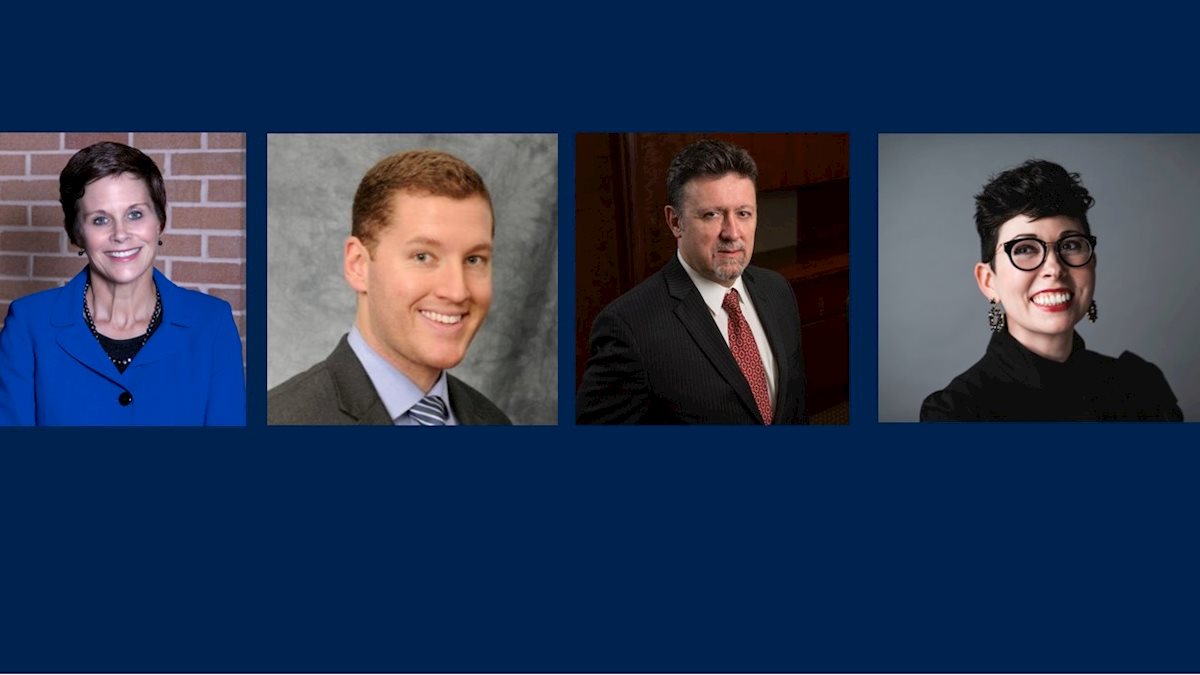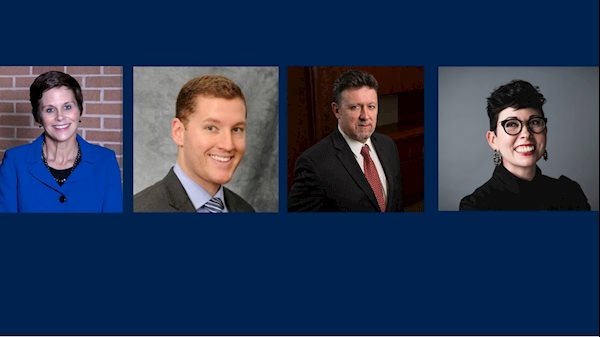 The WVU School of Public Health's Master of Health Administration program will host a virtual Administrative Grand Rounds on Friday, April 14, from 12 p.m. to 1 p.m. ET.
Moderated by Sarah Woodrum, DrPH, interim dean in the School of Public Health and assistant professor in the Department of Health Policy, Management and Leadership, this expert panel discussion will focus on updates from the West Virginia State Legislature. The event is being sponsored by WVU's Health Administration Student Association.
Learn more about the panelists below and register for the virtual event here.
---
Brandon Hatfield | General Counsel and Lobbyist for the West Virginia Hospital Association (WVHA)
Brandon Hatfield serves as general counsel and lobbyist for the West Virginia Hospital Association (WVHA). Prior to joining WVHA, Brandon served as committee counsel with the West Virginia House of Delegates.
Mr. Hatfield has over 10 years of legislative experience, with the last seven years specifically dedicated to health policy. His advocacy at the state legislature has addressed a variety of issues, including modernizing the Certificate of Need (CON) program, streamlining the involuntary hospitalization process and hospital reimbursement.
As a native West Virginian, Hatfield earned his bachelor's degree from Marshall University, and his Doctor of Jurisprudence from West Virginia University.
Alexander Macia | Attorney at Spilman Thomas & Battle, PLLC
Mr. Macia's primary areas of practice are general litigation, administrative and government relations law and mine safety at Spilman Thomas & Battle, PLLC. He graduated from WVU in 1985 and received his B.A. in political science and German and graduated from George Washington University in 1991 with his law degree.
Macia served as chief of staff to the Office of Governor Bob Wise from 2003 – 2005, and general counsel to the Office of Governor Bob Wise from 2001 – 2003. He served as vice president of legal affairs at WVU from 2007-2008. He is a co-chair for the Government Relations Practice Group, Deliberate Intent Practice Group and OSHA & MSHA Practice Group. Macia was named the Best Lawyers® 2019 "Lawyer of the Year" for Government Relations in Charleston, W.Va.
Megan E. Roskovensky | Director of Government Relations for the West Virginia Health Care Association
Megan Roskovensky was raised on the mean streets of Moundsville, W.Va., and is a proud graduate of Bishop Donahue High School and West Liberty University. While pursuing her master's degree in public administration at West Virginia University, Ms. Roskovensky was named a Rollins Scholar by the West Virginia Legislature and interned with the House of Delegates. During her internship, she was bitten by the legislative bug and knew Charleston was to be her home. Shortly after graduating with her master's degree, Roskovensky joined the staff of the WV House of Delegates as a research analyst, a position she held for four years. She left the House of Delegates in 2010 to try her hand at government relations, serving as the director of communications for a local lobbying firm.
In 2016, Roskovensky joined the West Virginia Health Care Association as the director of government relations, where she proudly advocates for our state's long-term care community. She resides in Charleston with her husband, Charlie, and their beloved miniature schnauzers, Oskar and Sophie.
Sarah Woodrum, DrPH (Moderator) | Interim Dean, WVU School of Public Health
Sarah Woodrum, DrPH, is currently serving as interim dean of the WVU School of Public Health, where she oversees the day-to-day and strategic administration and operations. She helps lead projects and programs and participates in policy development and problem resolution while providing administrative oversight to the finance office, office of research and information technology staff. Dr. Woodrum also teaches leadership courses in the Department of Health Policy, Management and Leadership.
She has more than two decades of healthcare management and strategic operations experience. Previously, Woodrum served as chief operating officer of Mon Health Medical Center in Morgantown, W.Va.; chief administrative officer and senior associate dean for administration and finance at the WVU School of Medicine; and vice president of the medical group with NorthShore University HealthSystem in Evanston, Ill.
Woodrum is a West Virginia native whose previous roles include chief operating officer at Mon Health Medical Center, a 189-bed community hospital in Morgantown, from 2015-2017; vice president at NorthShore University HealthSystem Medical Group in Evanston, Illinois, where she was responsible for the Department of Surgery, Department of Anesthesia and the Division of Cardiology; and various administrative capacities within the Northwestern Medical Faculty Foundation (Chicago), Northwestern Memorial Hospital (Chicago) and the BJC Health System (St. Louis).
Pictured above, left to right: Sarah Woodrum; Brandon Hatfield; Alexander Macia; Megan Roskovensky (submitted photos).
---
CONTACT: Nikky Luna, Director of Marketing and Communications
WVU School of Public Health
304.293.1699; nikky.luna@hsc.wvu.edu
OR
Kara Forst, Professional Programs Manager
WVU School of Public Health
kara.forst@hsc.wvu.edu